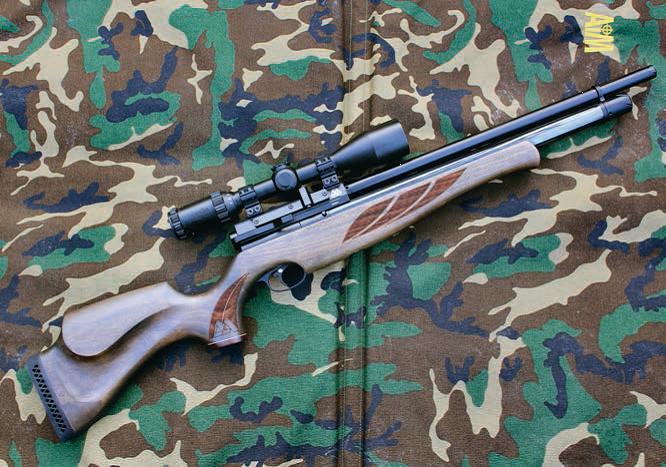 As per the name, this Superlite is the lightened version of the S510K. The weight loss is due to the stock design and timber-type and Minelli manufacture the furniture using Poplar Wood, which is available in three 'finishes' of Hunter Green and Traditional Brown. They all boast a high ambidextrous cheekpiece, slim neck, thumb rest and a slim forend.
Laser-cut chequered panels are found on either side of the grip and on both sides of the forend.
A 190-bar fill gives 70 shots in .177 calibre and 90 in .22. An air gauge is recessed in the underside of the stock. The airgun is fitted with side-lever action that runs a 10-shot 'un-sprung' rotary magazine. The 2-stage adjustable trigger unit features a black alloy blade with a manual safety button positioned through the blade itself.
The Lothar Walther barrel is fully shrouded and holds a primary silencer while the screw cut muzzle accepts a secondary unit. Air Arms calibre specific 'Q-Tec' Silencers are an optional extra, highly recommended, and ultra-efficient.
Contact: Air Arms - www.air-arms.co.uk
Price: £879